Hemp Products – Superior Hemp Oil's Full Spectrum CBD Oil's is your most reliable source for CBD. Superior Hemp Oil extract CBD tinctures are an oil blend of coconut Medium Chain Oil with 1500mg of Full Spectrum CBD Hemp Extract. Superior Hemp Oil's Tincture Droppers are Certified Third Party Lab Tested and the most effective method to consume your daily dose of CBD Hemp Extract, including fatty acids to support your mind and body, promoting optimal health.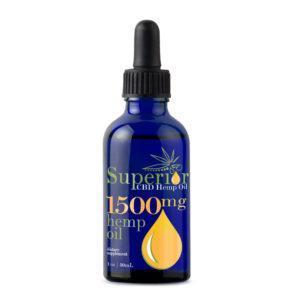 Superior Hemp Oil's Full Spectrum CBD Pain Relief Cream 1500mg strength is the strongest CBD pain cream available. Made for use on sore muscles and joints where pain has diminished your quality of life & comfort. Derived from Full Plant Hemp Extract (Not Hemp Seed) hemp oil, this cream allows for a one of a kind aid in pain relief.
All Superior Hemp Oil, LLC products contain less then .03 % of THC and is legal in all 50 states.
What Is CBD / Hemp?
No one really know's what makes for a high-quality CBD hemp oil. First and most significantly, is the nature of the cannabis plants themselves; you can never get a top quality cannabidiol oil without expertly grown plants. Each and every one of our products at Superior Hemp Oil, LLC is made from USA-grown hemp — simple, pure and efficient.
How does CBD work?
Hemp Products, CBD interacts primarily with the endocannabinoid system of the body, a collection of millions of cannabinoid receptors located in the body but predominantly clustered within the brain and central nervous system. Although CBD is a phytocannabinoid, or cannabinoid dependent on plants, the body also produces cannabinoids, called endocannabinoids, naturally. Almost every organ in your body contains cannabinoid receptors including your skin and digestive tract. The endocannabinoid system has four primary functions including neuroprotection, stress relief, immune response, and controlling the general equilibrium of the body, affecting faculties including appetite, sleep, mood, and pain.
Like THC, CBD does not specifically interact with the two traditional cannabinoid receptors (CB1 and CB2). Therefore CBD has no psychoactive effect. Alternatively, CBD blocks the enzymes that break down endocannabinoids, leading to an increase in the cannabinoids released naturally by your body.
All Orders Shipped within 24 Hours for FREE with United States Postal Service Priority Mail!
We are social, follow us!