Superior Hemp Oil's Full Spectrum CBD Oil products (Not Hemp Seed Oil) are derived from hemp (not marijuana), and may also be referred to as CBD-rich hemp oil, hemp-derived CBD oil, CBD-rich cannabis oil, cannabidiol, full spectrum hemp, PCR (rich phytocannabinoid) or PCR hemp extracts.or simply "hemp extracts," as they usually contain more than just CBD.
All CBD hemp crops from Superior Hemp Oil are lawfully cultivated in the United States, being rigorously tested for health, consistency and cannabinoid content.
1500mg Full Spectrum CBD Oil – Shop Now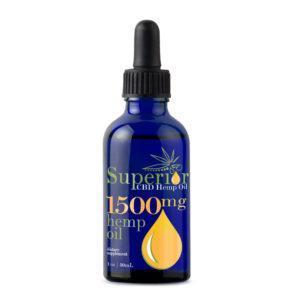 What is CBD?
Superior Hemp Oil, LLC – Superior CBD Hemp Oil Cannabidiol, also known as CBD, is one of more than 60 natural cannabinoid compounds present in annual herbaceous flowering plant Marijuana. CBD oil is extracted from an organic material produced on the secretions of the plant. Marijuana and hemp are both kinds of cannabis. Cannabis doesn't mean weed though. Cannabis is the name of the genus and the general concept all types of marijuana and hemp come under. Before recently, tetrahydrocannabinol delta-9, or THC, has become the most well-known and researched cannabinoid because of its prevalence in marijuana. CBD has been gaining traction in the medical community and media as the second most prevalent cannabinoid in marijuana, and the only non-psychoactive cannabinoid found in hemp.
1500mg Full Spectrum CBD Pain Cream – Shop Now
How does CBD work?
CBD interacts primarily with the endocannabinoid system of the body, a collection of millions of cannabinoid receptors located in the body but predominantly clustered within the brain and central nervous system. Although CBD is a phytocannabinoid, or cannabinoid dependent on plants, the body also produces cannabinoids, called endocannabinoids, naturally. Almost every organ in your body contains cannabinoid receptors including your skin and digestive tract. The endocannabinoid system has four primary functions including neuroprotection, stress relief, immune response, and controlling the general equilibrium of the body, affecting faculties including appetite, sleep, mood, and pain.
Like THC, CBD does not specifically interact with the two traditional cannabinoid receptors (CB1 and CB2). Therefore CBD has no psychoactive effect. Alternatively, CBD blocks the enzymes that break down endocannabinoids, leading to an increase in the cannabinoids released naturally by your body.
Total Arthritis Pain Relief Combo – Shop Now
We are social, follow us!